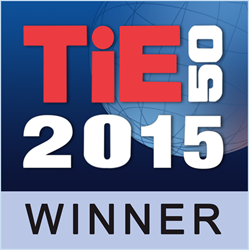 San Jose, CA (PRWEB) May 19, 2015
Openbucks, a Silicon Valley based company that pioneers a breakthrough virtual prepaid distribution network, won for the second time the prestigious Tie50 Award for technology startups. TiE, a global organization dedicated to fostering entrepreneurship across its network, recognized Openbucks at its 2015 TiEcon annual conference, as one of the top startup companies of the year. The annual award prizes 50 technology companies in different sectors for their business model, achievement and traction, after a comprehensive selection process from 2,700+ candidates from 27 countries and a demo day, in which 166 finalists compete in front of a panel of experts.
We're honored to receive once again the prestigious recognition from TiE a group who brings together great and accomplished entrepreneurs. TiE is a great supporter of Openbucks vision, which is to democratize prepaid distribution and payments globally through online and mobile technologies. We are privileged to have a large number of TiE Angels among our investors and advisors said Marc Rochman, CEO and Founder of Openbucks.
We eliminate the inefficiencies associated with third party distribution of prepaid products in brick and mortar stores, and make it accessible for the thousands of brands, who cant fit in gift card racks or are looking for better ways than plastic cards on a peg, to acquire users.
Third-party prepaid distribution represents a huge opportunity for online merchants. It means their goods and services can be distributed, in the form of prepaid cards, at hundreds of thousand of retail locations. This drives brand exposure, customer acquisition, alternative payment acceptance, gifting, loyalty, and more. Weve all seen the iTunes and Amazon cards at our local pharmacy but there are only 50 slots on a gift card rack with only 10 of them dedicated to online brands. The logistics are complicated and prohibitive. Its really a 20th century technology that doesnt serve 21st century commerce very well.
Openbucks brings the compelling benefits of prepaid distribution, to the thousands of popular and successful online merchants who can hugely benefit from it, making their prepaid instantly available nationwide in retail without printing a single card. Our approach is that we distribute at very popular and convenient locations, using the existing cards and the point of sales of major convenient retailers including Subway, Circle K, and Burger King but we move the rack online or to the mobile phone.
Consumers love it and we save tons of money and headaches to online merchants, who want to deploy a prepaid program in a snap said Kfir Eyal, Openbucks Vice President of sales and global payment partnerships. Last year, we sold for our merchant partners over a million virtual prepaid cards to hundreds of thousands of consumers. Weve also generated millions of store visits for our retail partners, who value the incremental foot traffic and increased frequency
TiE 50 has become a global brand that attracts thousands of companies worldwide. We screened 2716 companies this year and announced the most innovative 160 companies as 2015 TiE50 Top Start-ups. This pool of the very best-of-the-breed is again subjected to another round of rigorous judging to pick out the ultimate 50 winners proudly carrying the 2015 TiE50 Winner recognition. A star attraction of the conference is TiE50 presentations. Audiences are treated to amazing ideas and innovative technologies said Ram K. Reddy, the program chair.
It is unique in terms of rigor of selection and the broad scope of companies that it reviews for this award and is one of TiE Silicon Valleys most successful programs. It is also worth mentioning that this is the only awards recognition in technology to be held by a large global non-profit organization with no fees. A team of about 60 highly accomplished domain experts, senior executives, accomplished and experiences venture capitalists, and tech entrepreneurs come together to form a screening and judging team said Venktesh Shukla, President of TiE Silicon Valley.
The TiE50 track record since its inception in May 2009 shows that more than 90% get funded within the first year. About 120 of these companies have already exited. For further details on the TiE50, visit http://www.tie50.org.
About Openbucks:

Openbucks enables online merchants to distribute instantly and at scale their prepaid products and services through a unique network of major offline retailers, using their existing gift cards, hundreds of thousands of point of sales and mobile technology. Consumers can use the existing gift cards of participating trusted brands to buy online and pay at the point of sales of Subway, Circle K, Burger King, Shell, Dollar General or Sports Authority. The ability to piggyback on the prepaid distribution of large and convenient retailers brings thousands of new merchants, for which traditional rack distribution was inaccessible or too expensive, to an already $ 30 billion industry, which Openbucks intends to expand globally.

For more information please visit http://www.openbucks.com/overview.
About TiEcon:

TiEcon is the worlds largest conference for entrepreneurs and intrapreneurs with loyal participation from top technology companies, leading venture capital firms, and global service providers. TiEcon 2015 attracted 4,700+ attendees from across the world including CEOs of established companies to first-time entrepreneurs creating new companies, to leading investment professionals and corporate executives. TiEcon was listed by Worth Magazine as one of the 10 best conferences for ideas and entrepreneurship along with TED and the World Economic Forum. For more information on TiEcon, visit http://www.tiecon.org/.
About TiE:

TiE is a global not-for-profit organization fostering entrepreneurship through mentoring, education, and networking. We consider entrepreneurship to be the single most powerful instrument to advance global prosperity. TiE is a global network of over 60 chapters in 17 countries with a worldwide membership of about 14,000 that include successful entrepreneurs, venture capitalists, corporate executives, and aspiring entrepreneurs. For more information on TiE, visit http://www.tie.org.
Openbucks is a registered trademark of Openbucks, Corp. All other trademarks and product names are the property of their respective companies.
VideoViralViews.com br>
iTunes Promotions, iTunes Marketing