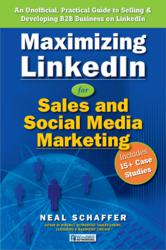 Irvine, California (PRWEB) November 29, 2011
Windmills Marketing is pleased to report on early successes of it's new book Maximizing LinkedIn for Sales and Social Media Marketing, the sophomore offering from distinguished global and social media strategist, Neal Schaffer.
With its print release in July 2011 and ebook release on Kindle, Nook, and iTunes shortly thereafter, his new book is resonating with business people, worldwide, looking to parlay Schaffers years of accumulated international sales and marketing acumen, plus in-person and online connections, into measurable business returns now and in future. Effectively using LinkedIn, one of the worlds most respected and established social media platforms, for business development is the books primary focus. Demonstrating its own business expertise, LinkedIn had a successful IPO earlier this year.
Schaffer is a digital pioneer in teasing out the incredible potential of LinkedIn for social business opportunities, beyond those seeking employment. This information-packed and engaging book shows organizations how to do this with straight-forward guidance and do-able advice rather than empty rhetoric.
Global and social bookends
His second book being embraced by a global audience is a gratifying outcome for American-born Schaffer, who lived and worked in Japan for 15 years, returning with his family to California in 2005. "One of the great things about offering an ebook through iTunes is the way you can track sales by country," indicates Schaffer. "Although the most ebooks to date have been sold in the USA (48%), significant numbers have been sold in the UK (18%), Canada (16%), Australia (14%) and, for some reason, in The Netherlands (4%). This means 52 percent of iTunes sales currently are coming from other parts of the world."
In some ways this isnt surprising, as Maximizing LinkedIn for Sales and Social Media Marketing features contributions from more than 15 business owners and professionals in the form of international case studies (including Australia, Belgium, Canada, China and France), a result of Schaffers steadily increasing social and in-person networking connections, which is nearing six figures.
After working in several countries (including Japan, China, and Singapore) and gaining international business experience, Schaffer determined a diversity of voices for global-local context, plus highlighting the successes of others, better served the education needs of his associatesespecially considering his respect for and working knowledge of the worldwide potential of social business.
LinkedIn itself being an international phenomenon complements this rationale, making its business platform an ideal focal point in this second book. An exciting development for Schaffer is that LinkedIn recently launched its service in his second home, Japan.
Do-able current and future-focused social business advice
Maximizing LinkedIn for Sales and Social Media Marketing comprises 14 chapters and two appendices (resources and additional case studies). Chapters cover areas such as: