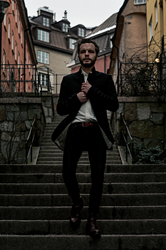 Durham, NC (PRWEB) February 24, 2015
The Tallest Man On Earth will stop at DPAC, Durham Performing Arts Center, on Friday, May 29, 2015 as part of his first full band tour.
Tickets go on sale Friday, February 27 at 12 p.m.:

Online at DPACnc.com
DPAC Ticket Center: 919.680.2787, 123 Vivian Street, Durham, NC
Ticketmaster.com / Ticketmaster Charge by phone at 800.745.3000
Friends of DPAC members may place their orders on February 26. Joining Friends of DPAC is free, and you can register at http://www.dpacnc.com/fod.
The announcement two weeks ago that The Tallest Man On Earth will release his first new album since 2012 this spring on Dead Oceans was met with open arms and eager anticipation. While the trailer is a beautiful indication of whats to come, the first single, Sagres, takes us a step further into the world of Dark Bird Is Home. Its an album that presents Kristian Mattson at his most personal and direct, deeper and darker than ever at times, yet also an album with strokes of whimsy and the scent of new beginnings. It feels fresh and well timed. Reliably, the melodies and arrangements are sturdy and classic, and the lyrics and their delivery are both comforting and alarming. You should expect the loudest and proudest songs yet from The Tallest Man On Earth on album number four, but also the softest and the lowest.
The Tallest Man On Earths Dark Bird Is Home is out May 12th on Dead Oceans and available for pre-order now. All iTunes and SC Distribution pre-orders come with an instant free download of Sagres.
For the next few years, the Dark Bird tour will come to your city or a town nearby, and for the first time The Man is bringing a band to the stage with him.
Listen to/share The Tallest Man On Earths Sagres https://soundcloud.com/deadoceans/the-tallest-man-on-earth-sagres/s-GnUD2
Watch Dark Bird Is Home album trailer http://youtu.be/pjsu5_fGvo8
####
About DPAC

Since its opening in 2008, DPAC, Durham Performing Arts Center, has become the center for live entertainment in the Triangle. Recognized for its contemporary design, DPAC features 2,700 seats, intimate sightlines and state-of-the-art sound and video. Listed four times in the top 10 in Pollstar magazines annual worldwide theater attendance rankings, DPAC is currently the #4 ranked theater in the U.S.
What is up next at DPAC? Rock torchbearers GOVT MULE (March 3), an intimate evening with soulful superstar MICHAEL BOLTON (March 4), and the 3rd annual BULL CITY FOOD & BEER EXPERIENCE (March 8).
For more information please go to http://www.DPACnc.com.
VideoViralViews.com br>
iTunes Promotions, iTunes Marketing