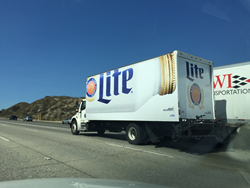 Santa Monica, CA (PRWEB)
July 08, 2015
TSN Advertising's CEO sits down with Jim Conaway of SmartMoney Radio in the below interview describing what the changing landscape of outdoor advertising means for today's biggest brands.
"TSN Advertising is committed to becoming the new advertising staple in branding and promotional campaigns. The companys CEO, Eric Zdenek joined us on air to talk about their start and how TSN grew the business.
You can listen to the interview on NBC's SmartMoney Radio
What is TSN Advertising?
TSN Advertising is an outdoor advertising media provider that serves Fortune 500 companies with branding and promotional campaigns by partnering with local, large delivery trucks and wrapping them with our clients campaigns. We currently have 100s of trucks wrapped with dozens of campaigns in markets across the country. From Jamba Juice to Western Union, from Maine to San Diego, we are opening this platform to more and more clients with our best in class wraps, our unbeatable price points, and our dedicated service to customizing our clients campaigns to their objectives.
Tell us about the TSN trucks. Are they going places or driving solely for advertising? Is this a sustainable business?
TSN trucks represent a new wave of outdoor branding and sustainability. Our trucks are on the road with or without our clients ads. The trucks are most commonly used as 3rd party logistics providers for major retailers and restaurants. So theyll deliver products to the very stores our clients customers shop and eat. Now, with TSN entering the picture, we simply hop on the back of these trucks to provide big branded campaigns at price points previously unattainable. This approach fundamentally separates us from the skinny billboard trucks, which are only on the road to advertise. The added traffic (in areas that are already burdened with congestion) and the added pollution has put these trucks in hot water with local municipalities the country over.
TSN is also proud of the fact that this new platform brings additional revenue to 100s of local businesses. Money that previously only went to billion dollar advertising behemoths in the form of billboard companies or massive bus ad companies.
What sets your method of advertising apart from other mediums?
Above all, TSN is in the unique position to offer the kind of big branded advertising that marketers desire and we do so at a price that a CFO can live with. We dont compromise size for cost. Our trucks are over 400 sq ft of street level advertising, which is relatively larger than billboards and the ads arent interrupted with wheel wells, windows, and doors like they are on buses. Now add to all that the unbeatable price points and youre left with a company that has a client retention rate of over 90% and one thats more than doubled every 6 months since its inception just a few years ago.
Who are some of your clients?
In the entertainment space were proud to work with:

NBC in multiple markets

Rock in Rio Music Festival

Musicians such as The Pixies, Taylor Swift, Bruno Mars
In the Financial space weve launched campaigns with Western Union in over half a dozen markets and our longest standing client of over 3 years, 800LoanMart throughout several states.
In the beverage category weve done quite well with nearly a dozen brands including

Jamba Juice

Miller Lite

Corona

Coors Light

Redd's Apple Ale

and my personal favorite, Leinenkugel's Summer Shandy

Weve also had fantastic wins with professional sports teams and technology companies with the LA Clippers Chivas USA campaigns and with Samsung, Flipps, and Gyft

Chumash Casino and Resort

Tim Horton's Cafe and Bake Shop
Who is your ideal advertiser?
Our ideal advertiser is a partner that has the need for market wide coverage on a big scale. Our clients not only serve customers from an entire city, but they also have a need to brand themselves on a large platform. Now as you might imagine just about everyone with a business would ideally get market wide coverage and big platform advertising, the problem always comes down to price. This is where TSN has excelled. Weve introduced a genuinely large scale advertising platform at a price our clients need to do the ol state farm double check on. Were that well priced. Our closest competitor averages half the trucks for the same budget in our typical campaign.
How did you come up with the concept for the company? What is your career background?
My background is dominated by the entrepreneurial upbringing that my father bestowed on all of his children. My siblings and I always joke that our father is an entrepreneur that also performs eye surgery. So weve always been drawn towards the challenges of creating something from nothing. My brothers currently run the largest holiday lighting company in the southland and after years of working with them, I went off on my own to start something with the Gonen family.
The idea of TSN was born out of a very general concept from the renowned LA incubator, Curious Minds and the Gonen family, whereby they wanted a business in the advertising space. The family is a collective serial entrepreneur with a stake in nearly a dozen companies with total valuations in the $ 100s of millions. We approached the idea very organically with an open mind about how the company would actually advertise. The only two things we really didnt want to sacrifice was the size of the eventual ads and the need for it to remain cost-effective. From that, I ran into obstacle after obstacle from over saturation by billion dollar companies to local regulations that literally eliminated options. It wasnt until a road trip up to Napa Valley that the idea of using any number of the white trucks that I continually passed that the actual company had its first opportunity to become something.
Next I worked on the logistics of getting the trucks wrapped and at an acceptable price for our first pilot; the rest is history. A long and storied history, but history nonetheless. Weve been adding clients and markets every month or so since with the best in class wraps and unbeatable prices.
What have your biggest challenges been? What were the biggest triumphs?
The biggest challenge honestly was getting off the ground. The level of sacrifice and the level of trust required to start a big platform company is a bit daunting. There was quite a long time there when we were moving ahead with tremendous costs and commitments to a platform that we only believed in, not one that we knew had satisfactory answers to the very tough questions the marketplace asks of successful companies. We knew others were doing it on some level but what we wanted required a real change in the industry. We would have abandoned this idea instantly if we didnt think it had the potential to fundamentally shake up the multi-billion dollar outdoor advertising world. So proving we could just be another truck ad company was not the objective. The objective was and remains, to become a disruptive game changer that partners with the worlds biggest brands in large scale campaigns across the country. And yes, given our latest win is Canadas massively successful coffee shop, Tim Hortons were going international with this bad boy.
VideoViralViews.com br>
iTunes Promotions, iTunes Marketing