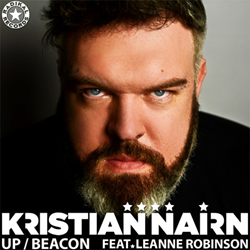 New York, NY (PRWEB)
July 15, 2015
Renowned locally and internationally in the field of music and performance, Kristian Nairn is a prolific homegrown talent. Widely recognized for his portrayal of the lovable, Hodor on HBOs hit series Game of Thrones, Nairn has been DJing and producing for over a decade, holding down a residency for eleven years at Kremlin, one of Irelands most popular and enduring venues.
Nairn is now taking the electronic music world by storm with the recent release of his debut single, 'Up / Beacon' available now on Radikal Records. The lead single, Up features the dreamy vocals of Leanne Robinson, and after a first week of coverage from publications like Ministry of Sound, Thump/Vice and The Verge, Up is about to hit 100,000 plays on SoundCloud.
Today, Nairn has released the single's B-side,Beacon, a progressive-house track with a unique blend of heavy synths and electro elements. The track trades the vocals and piano driven melodies of Up for a darker, more atmospheric sound; making it a perfect addition for his after-hours DJ sets. Listen to "Beacon" on Nairn's official SoundCloud: https://soundcloud.com/kristiannairn/beacon
"It's been a long time coming, and I think 'Up / Beacon' and the material yet to come is a really good reflection of how I feel about house music. We have been very lucky to find Leanne, and its been great working with her. Ive never been more excited to share 'Up / Beacon' and what else Ive been doing in the studio with the world over the next months." – Kristian Nairn
Nairn has been on an international tour, aptly titled Rave of Thrones with shows across Europe, Australia and the United States. Click Here to purchase tickets for when Nairn's "Rave of Thrones" stops at Irving Plaza in NYC on Thursday, August 13th.
Up / Beacon (feat. Leanne Robinson) is currently available for digital purchase and streaming worldwide. Download Kristian Nairn's debut single on iTunes and Beatport, or stream it on Spotify and Bandcamp.
Tracklisting:

1. Up (Club Mix) feat. Leanne Robinson

2. Up (Dub Mix) feat. Leanne Robinson

3. Up (Radio Edit) feat. Leanne Robinson

4. Beacon
For more information please visit: http://www.KristianNairn.com or follow him on Facebook, Twitter, and Instagram.
About Radikal Records:

Established in 1990, and based just outside of NYC, Radikal Records is one of the United States leading independent record labels. In business for more than 25 years, they are focused on marketing, promoting, and distributing artists not only to audiences in the USA, but also on a global basis to partners world-wide. Artists included on their roster over the years include: 2 Unlimited, N-Trance, Zombie Nation, ATB, Yello, Scooter, Schiller, Blank & Jones, Cosmic Gate, Sinead OConnor, Ayah Marar, and many others. For more information visit: http://www.radikal.com
VideoViralViews.com br>
iTunes Promotions, iTunes Marketing