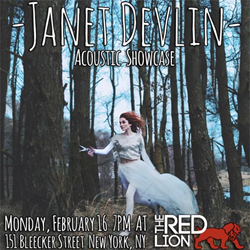 New York, NY (PRWEB) February 13, 2015
Janet first caught the publics attention on X-Factor UK where she received the most public votes for four consecutive weeks. Janet consistently impressed the viewers with her live performances and new renditions of classic songs such as Your Song and Cant Help Falling in Love. Now, just a few years after X-Factor, Janet released her debut album Running With Scissors via OK!Good Records in North America. Running With Scissors is a 10-track album full of folk-driven pop songs and heart touching ballads, which showcase her unique and mesmerizing vocals.
Janet will make her US debut when she performs a special acoustic showcase on Monday, February 16th at The Red Lion. The Red Lion is located on 151 Bleecker Street in New York City. The showcase will start promptly at 7PM. This will be the first ever live performance by the talented young Irish singer-songwriter in America, who has drawn many favorable comparisons to Ingrid Michaelson, Fiona Apple, The Lumineers, and KT Tunstall. Unlike many showcases, Janets showcase will be open to the public as well as music industry professionals and admission is free. The Red Lion has a 21 and up age policy. Those who are underage and wish to attend must be accompanied by an adult family member. For more information about The Red Lion please visit: http://redlionnyc.com/
Janet will be performing songs off of Running With Scissors, which is available for purchase in record stores nationwide, on Amazon, and iTunes now. It is also available for streaming on Spotify and Bandcamp. OK!Good Records is offering exclusive Janet Devlin merchandise for sale on the OK!Good web-store, which is available to purchase today.
Track Listing:

1. Creatures Of The Night

2. House Of Cards

3. Hide & Seek (feat. Newton Faulkner)

4. Lifeboat

5. Things We Lost In The Fire

6. Wonderful

7. Delicate

8. Friday Im In Love (The Cure cover)

9. When You Were Mine

10. Whisky Lullabies
For more information about Janets showcase at The Red Lion visit: okgoodrecords.com
For more information about Janet Devlin visit: JanetDevlin.com

Be sure to stay connected with Janet on Twitter, Instagram, Facebook, and YouTube.
About OK!Good Records:

OK!Good Records is a genre independent record label established in 2010 to distribute, market, and promote artists and music that defy boundaries, reject limitations, and transcend the ordinary. They champion and celebrate independent music, thought, art, expression, and enterprise. http://www.okgoodrecords.com
VideoViralViews.com br>
iTunes Promotions, iTunes Marketing